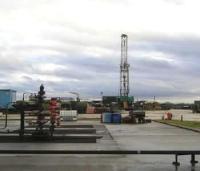 Europa Oil & Gas (Holdings) has completed drilling operations at the Kiln Lane-1 conventional exploration well ('Kiln Lane' or 'the Well') on Licence PEDL 181 in Northeast Lincolnshire.
The Well spudded on 23 February 2015 and reached a total depth ('TD') of 2,291 metres on 19 March. Sandstones in the Westphalian and Namurian intervals were penetrated in line with the pre-drill geological model and significant oil and gas shows were observed during drilling operations. However, wireline logging and subsequent petrophysical analysis indicates that the sandstones encountered are water wet. The Well will therefore be plugged and abandoned and the site restored to agricultural use.
Europa is operator of and has a 50% working interest in PEDL 181, which covers an area of over 540 km2 in the East Midlands Petroleum Province. Egdon Resources and Celtique Energie Petroleum Ltd each have a 25% interest in the Licence. Europa and its partners will conduct a detailed post-drill technical review of all relevant well and seismic data to determine the way forward with this large exploration licence.