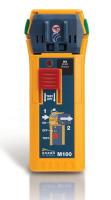 Ocean Signal has announced that its new M100 Maritime Survivor Locating Device (MSLD) is fully certified for use in Europe.
The man-overboard device with Automatic Identification System (AIS) and 121.5-MHz homing beacon has now started shipping to customers and is available from Ocean Signal's European network of dealers and distributors.
The latest device by the communication and safety at sea specialist is developed for the professional marine market and suitable for all offshore and lone workers. Designed to unobtrusively attach to immersion suits and inflatable life jackets, the rugged man overboard device is ready for automatic activation on inflation of the jacket or on submersion when fitted to the suit.
Once activated, the M100 will transmit an alert to all AIS receivers and AIS enabled plotters in the vicinity, as well as sending a 121.5-MHz homing signal, for a minimum of 12 hours. Waterproof up to a depth of 10 metres, the devices are operational between temperatures of -20° C and +55° C and can be stored at temperatures between -30° C and +70° C.
The M100 device is suitable for commercial use such as wind farm users, off shore workers, fishing fleets and fish farm workers, and helicopter transfers.
The Ocean Signal MSLD has been developed to withstand the harsh commercial environment and has a resilient, sturdy design to ensure ease of use and simple installation.
With a 2-year warranty, the compact MSLD measures 132 mm x 53 mm x 28 mm to ensure it can be comfortably worn whilst in a working environment.