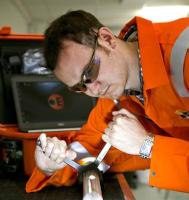 Specialist in well diagnosis, EV, has announced the acquisition of Aberdeenshire-based well integrity software supplier, Epidote Limited, to enable a world-class well diagnosis service.
The acquisition results in EV taking full ownership of the company and its five employees.
Epidote was established in 1999, its MIPS software providing multi-finger calliper data processing, interpretation and 3D visualisation.
When combined with EV's cameras, data can be streamed in real time and played back on log data, eliminating the uncertainty of well diagnostics. Additionally, data can be sought in one run as opposed to multiple, resulting in faster, better quality decisions and reduced downtime.
Of the acquisition, EV founder and chief technical director, Jonathan Thursby says, "The agreement opens up many new and exciting possibilities for EV, allowing us to enhance our capabilities and present a unique and sound offering that is unavailable elsewhere. We are confident that this considered move will be hugely beneficial for both companies. Together, we share not only unparalleled technical knowledge for the provision of thorough well diagnostics, but also an appetite for success, ambition and drive."
"Ultimately, the deal allows us to further underpin our position as world leaders in downhole diagnostics," adds Thursby.
Steve Helmore, founder and MD of Epidote Limited, says, "The acquisition marks a step change for Epidote. We've been working with EV for a number of years, and we are excited about this positive move to cement our relationship with an exceptionally successful company - the expertise of which complements our offering. We've been delivering international projects for some time, and having access to both EV's global sales team and customer base will really allow for the broadening of our horizons, both globally and technically."
EV is the market leader in downhole video applications, splitting its headquarters between Norwich and Aberdeen, and has a team of 120 employees. EV continues to expand and currently operates in more than 35 countries, having 22 locations around the world, including Canada, USA, Latin America, Europe, Africa, the Middle East and South East Asia. EV is backed by UK mid-market private equity house Dunedin.