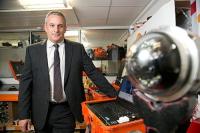 Well diagnosis specialist EV has announced the appointment of a new chief executive officer.
Bringing over 28 years' of industry experience to the role, Fraser Louden has held a number of positions within a range of oil and gas service companies - including 17 years with Schlumberger - in global management and leadership posts. His career has also seen him work as managing director, and subsequently as chief executive officer of READ Well Services.
Louden joins EV from his most recent position as managing director at ALS Oil & Gas, Houston, which was a role he held for four years.
To further strengthen its commercial team, the company has recruited Rob Potter as global marketing manager and Tobben Tymons as sales and marketing manager for its eastern hemisphere operations. For its western hemisphere activity, EV has also recruited Jeff Whitaker as sales and marketing manager.
Commenting on the appointment of Louden, EV founder and chief technical director Johnathan Thursby, says, "We're delighted to welcome Fraser as EV's CEO. During a challenging time for the industry, having an individual who possesses sound management experience and vision front the team is absolutely crucial. Fraser has demonstrated an incredibly strong track record of transferring deep market insights into successful business. I have no doubt that his combination of knowledge and experience will be invaluable in further strengthening EV's successful international profile."
Of his appointment, Louden says, "I'm exceptionally pleased to join EV and I'm particularly passionate about its market leading service offering and innovative solutions, for which the company has an excellent global reputation. Having recently recruited key roles within our commercial team, EV is in a firm position to implement our ambitious vision and strategy. I'm looking forward to fronting the team to further underpin EV's position as a world leader in well diagnosis."
Earlier this year EV announced the acquisition of Aberdeenshire-based well integrity software supplier, Epidote Limited, to enable a world-class well diagnosis service – specifically multi-finger calliper data processing, interpretation and 3D visualisation.