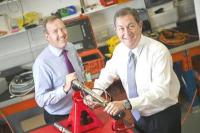 EV has appointed Federico Casavantes as vice president of marketing.
Bringing nearly 30 years' experience to EV, Federico joins the management team with the purpose of developing and implementing the company's growth strategy.
Francis Neill, chief executive of EV, said: "In this newly created role, Federico Casavantes will be supporting our entry into key geographical regions as well as working to define and introduce complementary technologies which increase the range of well diagnosis solutions currently on offer to our rapidly expanding customer base."
Mr Casavantes, originally from Mexico, began his career as a wireline logging field engineer with Schlumberger where he gained technical and operational experience through various global assignments.