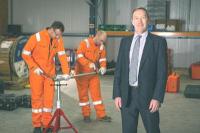 EV has launched its IVC (Integrated Video Caliper) product to the well intervention market, which provides real-time answers to well integrity issues.
Following two years of development and extensive, successful field trials in Canada, the innovative technology has been launched globally. IVC integrates market leading qualitative and quantitative sensors in a single electric line tool string to enable oil and gas operators to diagnose issues in the well instantaneously.
IVC is based around EV's proprietary telemetry, which transmits data at up to speeds of 300 kbps on a mono-conductor electric line, more than three times that of industry standard systems. Using the high data rate capability, EV joins streaming colour video with multi-finger caliper measurements to deliver a true diagnosis tool.