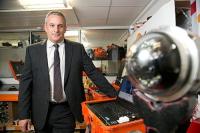 Specialist in well diagnosis, EV, has announced the launch to market of its pioneering Video While Tractoring (VWT) service.
The new, innovative offering provides users with the unique ability to stream real-time live video simultaneously to the surface whilst tractoring in hole. Among many benefits, VWT leads to minimised risk and increased operational efficiency for operators.
Ahead of the launch, the product underwent a detailed year-long in-house development and was extensively tested during field trials with an industry leading, globally-recognised tractor provider last year.
VWT is combinable with pressure, temperature, gamma ray and casing collar locator sensors which can be recorded simultaneously with EV's Optis® HD Electric Line camera or its IVC (Integrated Video Caliper) tools.
EV's chief executive office, Fraser Louden says, "We're committed to ongoing Research and Development and believe that in the current climate, when time and cost savings are imperative for the future of our industry, it has never been more important to bring new value added solutions to the market."
"Previously, conventional tractor and camera operations on mono-conductor cables required a careful and repetitious and time consuming 'tractor, stop, video, stop, tractor' cycle whilst running in hole. With the evolution of tractor conveyance quickly becoming a method of choice in highly deviated and horizontal production and injection wells, it was important that EV engineered a solution to enable a more efficient and reliable live diagnosis service offering. Launching VWT doesn't just highlight EV's extensive experience, but further underpins EV as industry leaders in the field of well diagnosis," adds Louden.