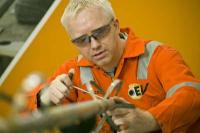 Downhole video technology specialist EV has recorded significant international growth by opening a new base in the Middle East, aiming to be the market leader in the region by the end of the year, estimating more than £1.25million (2 million USD) in revenue in the region during its first year of operation.
EV, a leader in downhole video applications for the oil and gas industry, has seen rapid international expansion over recent years. EV's new Middle East office, located in Dubai, opened in April of this year to aid local operations as well as provide a regional presence for projects in the area.
Mark Wiltosz, EV MENA and Caspian area manager said: "We have seen an exceptionally high demand for our downhole video technology in the Middle East in recent months. The launch of our Dubai office follows the progress we have had in the region, with previous contracts successfully completed in Qatar, Abu Dhabi, Saudi and Oman.
"Through our on-the-ground presence, we want to see the service provided by EV to be part of regional projects including routine fishing programmes and work over campaigns and have tools with most operators in the region. Being in Dubai allows us to provide our customers with the reassurance that we can produce valuable data using up-to-date problem identification methods with short lead times, resulting in an effective end result for the operator."