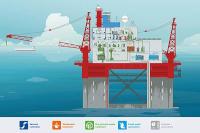 Evac Group has appointed Claes Rudling as global Business Area President, Offshore and Merchant, effective January 23, 2017. Claes will continue as CEO of Uson Marine, which was acquired by Evac Group in December 2016.
Rudling is a member of the Evac Group Management Team. He is based in Stockholm and reports to Tomi Gardemeister, President and CEO of Evac Group.
With the acquisition of Uson Marine, our customers will benefit from an improved service network and a expanded offering.