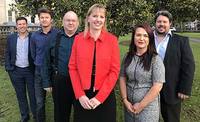 Aberdeen-based Evolve iMS has announced that it has secured contracts worth GBP 400,000, with five major UK construction, engineering and decommissioning firms, as it gears up for further growth in 2018.
The fledgling information management services company has also relocated to new premises on Queens Terrace in Aberdeen to accommodate its rapidly expanding team.
Focussed on supporting companies in the oil and gas, construction and consultancy sectors, Evolve iMS helps businesses transform their processes, save money and dramatically improve productivity.
The contracts will see Evolve iMS supply, implement and support Microsoft Dynamics NAV; which allows its customers to manage all financial, inventory and human resource information in one centralised database.
Launched in May 2017, the company currently employs six people and has plans to double its team over the next 12 months. With a number of projects in the pipeline, Evolve iMS is in a strong position to further expand its service offering to ensure its customers benefit from the latest technologies and Microsoft Office 365 integration.
Recognising the growing number of companies across Scotland using Microsoft Dynamics NAV to streamline their operations, Evolve iMS saw an opportunity to become one of the first Aberdeen-based companies to specialise in the supply, implementation and development of this software.
Lisa Reid of Evolve iMS, comments, "Collectively, these contracts represent an exciting new phase for Evolve iMS as we look to cement our position as one of the leading ERP (Enterprise Resource Planning) solutions providers, both in the UK and overseas. Our aim is to help businesses use global ERP to dramatically improve their performance. Microsoft is investing heavily in NAV, enabling faster decision making and project turnaround from anywhere, with any mobile device."
"We are bringing better, more sustainable solutions to the market. Using the latest software solutions and business systems, companies can gain complete control over what's going on in their business, so they can respond quickly and effectively while driving profitable growth. We have attracted some of the most experienced people in the industry who have the expertise and capacity to equip companies with the tools required to effectively log, track and access vital data required to run and grow their business," Reid concludes.