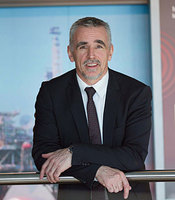 Aberdeen-headquartered Exceed, a well management and performance improvement specialist, has announced it will create 20 jobs, having been awarded a contract by Alpha Petroleum Resources Limited for its forthcoming Cheviot Field development campaign. Alpha Petroleum is an upstream oil and gas operator focused on the UK sector of the North Sea and backed by private equity firm Petroleum Equity.
Alpha's programme includes the drilling and completion of a total of 18 subsea wells, and Exceed's contract will begin with immediate effect. The operational phase of the project is expected to commence in Q2 2018, subject to securing FID in Q4 2017, with a workscope that will see Exceed provide drilling engineering and well construction operations management within blocks 2/10a, 2/15a and 3/11b of the North Sea for approximately 1,000 days.
Despite the oil and gas downturn of the last two years, Exceed has continued to invest internally, in order to expand its expertise and continue strengthening its engineering capabilities.
Exceed's Managing Director, Ian Mills, explains further: "During the challenges of the past few years, the Exceed team has worked extremely hard to implement a strategy that ensures we now have the capacity and capability to manage major projects through our in-house, multi-disciplined team."
"By playing a significant role in the delivery of one of the largest field developments in the North Sea in recent times, Exceed is delighted to be creating 20 new jobs. This award is a clear illustration of the benefits our investment strategy has delivered and we look forward to working with Alpha Petroleum and our fellow contractors to successfully deliver this key UKCS project," says Mills.
Alpha Petroleum's COO, Graham Walters, comments, "We conducted a careful evaluation of well management companies in order to select the right fit for Alpha and Cheviot. The award to Exceed will provide the additional operational strength and support the Alpha team requires as we prepare to commence operations next year."