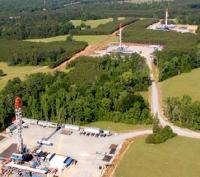 EXCO Resources, Inc. is executing on its disciplined capital allocation approach to ensure the highest and best uses of capital. EXCO will be selectively developing its asset base during the first six months of 2016, while deferring a significant amount of the Company's drilling inventory until commodity prices improve.
Capital Budget Overview
EXCO's Board of Directors has approved an operated drilling and completion capital budget of $70 million for drilling nine gross wells through June 2016 and completing 18 gross wells through August 2016, a reduction of $101 million, or 59%, as compared to operated drilling and completion capital expenditures of $171 million through August 2015. Development during 2016 will be focused on natural gas drilling and completion activities in North Louisiana and East Texas where EXCO is targeting 20% to 35% rates of return.