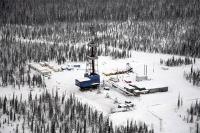 Exillon Energy announce that on 3 December 2013 the Ministry of Natural Resources registered an extension (State Registration No.4315) to the Company's EWS I field. In Russian, this field is called "West Kayumovsky".
The extension delineates the newly understood geological contours of the field and covers 53.7 km2 of previously unlicensed territory immediately bordering the north eastern edge of EWS I. This is close to our Well Pads 5 and 7, and to our existing oil production infrastructure. The total aerial extent of the EWS I licence area is now 604.2 km2, an increase of just under 10%.
The new extension has oil reserves under the Russian C2 classification of 4.04 million tonnes. It is not possible to make a direct comparison with reserves audited under international PRMS standards.