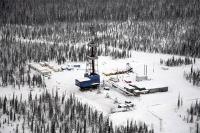 Exillon Energy announces unaudited production data for the three-month period ending 31 March 2014.
Highlights
Our average daily production1 was 18,380 bbl/day in January, 18,090 bbl/day in February and 16,777 bbl/day in March.
The decrease of production in March 2014 was a consequence of oil pipeline repair works undertaken by Transneft and the temporary suspension of operations by certain oil refineries due to maintenance and repair works.