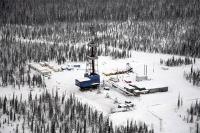 Exillon Energy's average daily production was 17,532 bbl/day during the month of June 2014
Average daily production for Exillon TP was 3,803 bbl/day, and for Exillon WS it was 13,729 bbl/day during the period.
The company's peak daily production was 17,889 bbl/day during the period.
Exillon Energy plc is incorporated in the Isle of Man, with its operational headquarters in Urai, Russian Federation.
Since its creation, Exillon Energy has continually delivered on its strategy to ramp up production at its key assets, to increase and migrate reserves and to increase the Group's operational and economic efficiency.