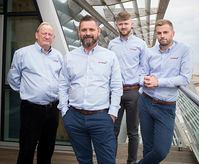 A specialist engineering personnel company, which is expanding its workload and services, has moved into a prestigious offshore renewable energy hub to help it grow in the future.
Using years of expertise among its founding directors, Techplus launched in March 2017 as a bespoke engineering personnel company for the energy and construction sectors.
Now leading a recruitment drive, and basing itself at OrbisEnergy at Lowestoft, it has set its sights on increasing its range of services in 2018.
Commercial Director Ian Dawson says, "We are expanding because of our expertise in the industries we serve and our strong network of contacts, which ensures we get the right people for the right projects. We have hired a Personnel Coordinator and will have a Senior Project Manager joining by the end of the year."
"The need for new premises became clear and OrbisEnergy is ideal – because we share the building with a mix of related energy and offshore engineering companies. With access to business support and networking, and scope to expand in the future, it is a great place for start-ups and SMES to be," adds Dawson.
Techplus's other Directors Jon Reynolds and Les Dawson both have years of experience in the oil, gas and utility sectors. Their knowledge enables them to assess the needs of recruiting companies and match them to the right workers for the project. They have helped place a range of white and blue collar workers from project managers to offshore technicians.
Techplus is adding to its accreditations (ISO 14001 environmental and OHSAS 18001 health and safety) so it can add electrical engineering services and work scopes as well as just personnel. Its growth is also being helped by a grant from the SCORE team, which encourages innovation and enterprise in the offshore renewables sector.
There are more than 68 tenant companies based at OrbisEnergy, ranging from major wind farm developers and operators to jack-up, logistics, recruitment and other support companies. They all use the building's shared facilities and support services, meeting rooms, networking and access to advice, grant funding and investment.
OrbisEnergy's Business Development lead Jonathan Reynolds says, "We are delighted to welcome Techplus on their move into OrbisEnergy and look forward to supporting their future growth. It is always encouraging to see dynamic young businesses expanding and hope that we'll be supporting Techplus in the future with even more space as they grow."
"The continued growth of OrbisEnergy and our ever-expanding network of tenants reflects the buoyant nature of the offshore renewables sector here in the East. Having supported more than 160 tenants and incubated some of the industry's biggest names in the region's offshore wind supply chain, it's great to have such a varied range of businesses based here, benefiting from our support and from being able to work with each other."