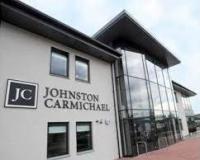 Scotland's independent firm of accountants and business advisers, Johnston Carmichael, has appointed two new directors.
David Ward joins the firm's tax team, returning to Scotland after nine years at London-based Norton Rose Fulbright. David initially graduated from Edinburgh University with first class honours in Molecular Biology before going on to qualify as a lawyer in England. After university he joined Norton Rose Fulbright in 2005 where he qualified as a chartered tax advisor.
David has gained significant experience in oil and gas and renewables during his career. Based in the firm's Edinburgh office, he will be a firm wide resource and continues to boost Johnston Carmichael's credentials in the energy sector.
Susie Walker, head of tax at Johnston Carmichael, said: "David has a wide range of tax expertise in domestic and international M&A, structured asset finance, project finance, disputes and investigations and restructuring, with a particularly strong focus on the oil and gas and renewable energy sectors.