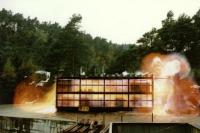 Safety and risk management specialist GexCon has announced details of a major expansion of the world-leading test site facilities on an island near Bergen, Norway.
Under the plans, a new test site will be developed on the island of Sotra, eight times larger than the existing facility, including extended testing facilities and infrastructure and state of the art measurement equipment.
Part of the worldwide GexCon group, the company specialises in complex safety and risk management including advanced dispersion, explosion and fire modelling, as well as high-hazard consequence and process optimisation modelling.