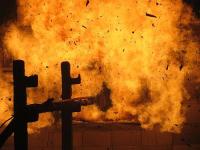 Driven by its purpose of safeguarding life, property and the environment, DNV GL has officially opened a new, state-of-the-art training centre at its large-scale testing and research facility at Spadeadam in Cumbria, UK. It was opened by The Rt Hon The Lord Cullen of Whitekirk KT. The international oil & gas advisory and classification society is also inviting participation in a new joint industry project (JIP) to improve cost-efficiencies in explosion protection designs for process areas with testing to take place at the site.
More than GBP 3 million has been invested in the Spadeadam Testing and Research centre to enhance its offering to perform rarely available trials in a controlled and secure "real-life" environment. The site features some of the world's most advanced destructive and non-destructive test facilities. The new training and conference facility will enhance experiential learning for the oil and gas, chemical, utilities and security industries.
Elisabeth Torstad, CEO, DNV GL – Oil & Gas, says, "While the industry is understandably preoccupied with generating shorter-term value, we must be vigilant in ensuring safety remains as a top priority. Our challenge is to continue giving the message to clients that cutting costs without understanding the bigger risk picture can end up being ineffective, and ultimately very costly to the business."
"The primary role of the Spadeadam Testing and Research centre is to provide our clients with the knowledge and understanding to ensure risks are reduced and operations are safer. It is the availability of this infrastructure that allows Spadeadam to respond so effectively across a number of sectors," continues Torstad.
The Rt Hon The Lord Cullen of Whitekirk KT, add, "I welcome the creation of this conference centre for the support of training. Hazard awareness is essential for the successful management of safety in the interface between people, plant and equipment, with which they have to work."
Spadeadam will run full-scale experiments, using available test rigs, for a new DNV GL-led JIP, CostFX, to investigate cost-efficient explosion load descriptions for process areas. The project, which is still open to new participants, is driven by a need to improve and align knowledge between HSE and structural disciplines on explosion load criteria.
Work carried out at the site, which is the largest facility of its kind in the UK, consists of confidential, large-scale, major hazard tests, including flammable gas dispersion, fires, explosions, pipeline fracture tests, blast and product testing in a safe and secure environment.