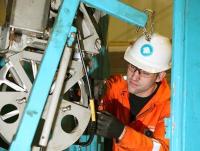 International oilfield services company, Expro, has secured a 5-year master services agreement with Repsol Sinopec Resources UK Limited, for well services across its UK North Sea assets.
The contract is valued at USD 8 million (GBP 5 million) for the first calendar year, which will be reviewed on an annual basis - including options to extend beyond the initial term.
Expro's award includes well intervention services across all of Repsol Sinopec's UK North Sea assets for production assurance and enhancement, well integrity, subsea, reservoir and decommissioning and abandonment applications.
The wireline and cased hole logging services include personnel to supervise all offshore intervention activity, including slickline and electric line conveyance, memory and real time cased hole logging (including production logging and calliper services), explosive and perforating services, downhole cameras, gauges and sampling.
Expro is committed to improving well performance through an experienced team of engineers, supervisors and integrity specialists, providing solutions for every stage of the well life cycle.
The company's services cover all aspects of well servicing activity from office-based planning and co-ordination, through to well site execution and supervision. Expro's worldwide experience extends across different well conditions, from shallow land gas storage wells to highly complex deepwater HPHT environments.
Expro's UK Area Manager Gary Sims says, "Securing this significant agreement gives a major boost to our UK well intervention business, as we work hard to maintain contracts with valued, long term customers. It continues our excellent relationship with Repsol Sinopec (formerly Talisman), which goes back to the company's arrival in the North Sea two decades ago. The experience of our personnel, our strong safety culture and our commitment to service quality were critical in securing this contract - we look forward to further strengthening this relationship with Repsol Sinopec in the future."