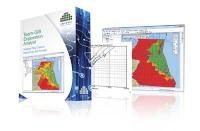 Exprodat has released a new version of Exploration Analyst, its popular and widely used petroleum exploration and new ventures software.
Exploration Analyst version v221, to be released in October 2014, includes a host of new features, all of which were included to increase the efficiency and accuracy of exploration decisions.
While providing powerful analytical tools the new release maintains the simple-to-use ethos that made previous versions a success with exploration geoscientists, who can now quickly create even better looking play chance maps and more easily run complex resource and acreage analyses.