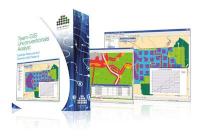 Exprodat has released a new version of its Unconventionals Analyst, the ArcGIS extension that allows oil and gas companies to estimate reserves and optimise well patterns throughout the life of an unconventional oil and gas development.
Unconventionals Analyst version 221, which supports the latest ArcGIS 10.3 release, includes enhanced support for the Society of Petroleum Evaluation Engineers' (SPEE) Monograph 3 geostatistical reserves analysis which was designed to determine the undeveloped areas in resource plays that could be considered to have been proved.
The new features mean that users of Unconventionals Analyst v221 can now run multiple iterations of the complex Monograph 3 workflow, easily create proved area polygons, repeat runs using the same anchor wells as a previous calculation and create a final heat map view of overlap areas.