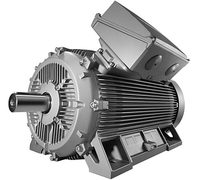 With the introduction of its new Simotics SD Add low-voltage motors, Siemens is extending the application scope of the next-generation Simotics SD low-voltage motor series it launched at the beginning of this year. This marks another step taken by the company towards the expansion of its portfolio of scalable standard motors for use in challenging ambient conditions. By offering low start-up current levels, the characteristic product feature of the Simotics SD Add low-voltage motors, this new addition to the series is opening up greater application scope: for instance, to comply with sector-specific requirements in the process industries, or in fields requiring enhanced grid stability by reducing grid loads in the event of voltage dips. The availability of country-specific certificates means that these motors can be used without restrictions in all regions and markets of importance around the world.
While providing the same level of performance, highly efficient motors such as Simotics SD Add with efficiency classes IE3 and IE4 offer a greater ratio of start-up current to rated current than less efficient motors. Its special electrical design has enabled the start-up current levels in the Simotics SD Add to be significantly reduced while retaining the same compact size and without compromising on efficiency. Low start-up currents increase the service life of the motor, as they reduce the incidence of torque shocks, which stress the motor windings both thermally and also due to electrodynamic forces. This design also enables supply cables, control cabinets, protection equipment and industrial controls to be more compactly dimensioned, saving on both procurement and operating costs.
Lower start-up current levels mean that grid loads due to disturbing voltage dips can be reduced, creating greater grid stability. This is a particular benefit in regions with a less well-developed grid infrastructure and in soft grids of the kind found in countries covering an extremely large geographical area such as Canada, Russia or the USA.
To simplify commissioning, servicing, spare part procurement and the attachment of optional components, the Simotics SD Add motors are fitted as standard with a DataMatrix code. This enables all relevant information such as technical data, spare parts and operating instructions for the individual motors to be accessed on mobile terminals using the Simotics Digital Data App.