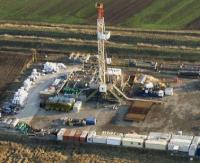 Falcon Oil & Gas Ltd. announces the expiry of the extension granted to its partner, Naftna Industrija Srbije jsc (NIS), regarding their obligatory three-well drilling programme in Falcon's Mako Trough Licence in Hungary.
In January 2013, Falcon and NIS agreed to complete a three-well drilling programme targeting the relatively shallow Algyo Play, by July 2014.
Under the terms of the Agreement, NIS made a cash payment of US$1.5 million and agreed to carry Falcon for 100% of all costs associated with the drilling and testing programme.
The July 2014 deadline for completion of drilling and testing of the three-well programme was subsequently extended by Falcon to 31 December 2014 to enable NIS to fulfil its three well obligation. As of 31 December 2014, NIS has only drilled and tested two wells.