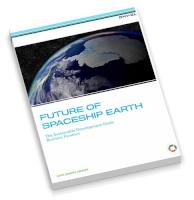 Will the world achieve the United Nations' 17 Sustainable Development Goals (SDGs) by 2030? What can business do to lead the charge? DNV GL set out to answer these two critical questions in its new forecast examining the future of our 'Spaceship Earth'. The report concludes that, while many of the goals will make good progress across several world regions, action will not be fast enough or fair enough and will come at an unacceptable environmental cost. However, there is still time to reset the course of our "Spaceship Earth": the report showcases 17 global companies driving extraordinary progress on each of the global goals.
One year after the SDGs' launch, businesses, governments, organisations and individuals everywhere have started to work towards the global goals. However, the Future of Spaceship Earth forecast shows that none of the goals will be met in all regions of the world. Likewise, no single region will achieve the necessary progress towards all the goals. The scale of the challenge is such that urgent, extraordinary action is now needed.
Business is uniquely positioned to drive this magnitude of action. The report highlights 17 global companies at the frontier of progress on the SDGs; Tata, Danone, HiTechnologies, ARM, Symantec, Grundfos, SolarWorld, NYK, Hydro, Safaricom, Siemens, Marks & Spencer, Iberdrola, Cermaq, APP, Calvert Investments and Unilever. These pioneers are driving sustainable change through innovations, partnerships and adjustment of business models. The Sustainable Development Goals have become a blueprint for companies to reshape and future-fit their business.
Group President & CEO of DNV GL, Remi Eriksen, says, "For the most part, business has the technology, people and processes to rock the world. The challenge, therefore, isn't the 'smarts', it's the take-up of the solutions proposed and piloted – the real scaling of these interventions."
All the companies featured in the report are signatories to the UN Global Compact, an initiative to encourage businesses worldwide to adopt sustainable and socially responsible policies and thus contribute to a sustainable future.
The forecast report launch was co-hosted with the UN Global Compact at the UN headquarters in New York. The co-chair of the UN Secretary-General's SDG Advocacy Group, Norway's Prime Minister Erna Solberg, provides a foreword and received the report during the week of the 71st session of the UN General Assembly.