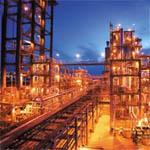 ExxonMobil reinforced its long-term supply commitment to the fast-growing Asia-Pacific market today during an event celebrating the expansion of its Singapore chemical production facility.
'Global chemical demand will grow at a faster pace than GDP as people seek higher standards of living and purchase more household and packaged goods manufactured with chemical products,' Rex W. Tillerson, Exxon Mobil Corporation (NYSE: XOM) chairman and chief executive officer, said at the event.
'Two-thirds of that growth in chemical demand will be here in the Asia-Pacific region. ExxonMobil's expanded Singapore chemical plant is uniquely positioned to serve these growth markets - from China to the Indian subcontinent and beyond.'
ExxonMobil's expansion project doubled the size of its finished product capacity in Singapore, making it the largest chemical expansion in the company's history.