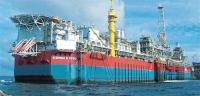 Exxon Mobil Corporation says that its subsidiary, Esso Exploration Angola (Block 15) Limited (Esso Angola), has started oil production ahead of schedule at the Kizomba Satellites Phase 2 project offshore Angola.
Kizomba Satellites Phase 2 is a Block 15 subsea infrastructure development of the Kakocha, Bavuca and Mondo South fields. Mondo South is the first field to begin production, and the other two satellite fields are expected to start up in the coming months.
The project develops approximately 190 million barrels of oil with peak production currently estimated at 70,000 barrels of oil per day. The project is expected to increase total daily Block 15 production to 350,000 barrels. Esso Angola is operator of the project and Block 15.
The project optimizes the capabilities of existing Block 15 facilities to increase current production levels without requiring additional floating production, storage and offloading vessels (FPSOs). The Mondo South field is being developed with tiebacks to the Mondo FPSO, while the Kakocha and Bavuca fields are being developed with tiebacks to the Kizomba B FPSO.
'This exemplifies ExxonMobil's project management expertise and the capabilities of local suppliers and businesses that helped maximize the value of Angola's petroleum resources,' said Neil W. Duffin, president of ExxonMobil Development Company. 'As a result, our team achieved the best safety performance to date among the major Block 15 projects and reached a high level of Angolan participation.'