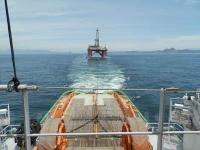 Fairmount Marine has safely delivered rig ENSCO 5004 in Malta at the end of a voyage that began offshore Rio de Janeiro. Rig ENSCO 5004 is a 1982 built 94,7 meters long and 70,4 meters wide semi-submersible drilling rig.
The towage of rig ENSCO 5004 from Rio de Janeiro to Malta took about 5,782 nautical miles and during the voyage speeds well over 7 knots were reached.
Fairmount Marine is a marine contractor for ocean towage and heavy lift transportation, headquartered in Rotterdam, the Netherlands.