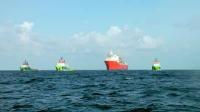 Three tugs of Fairmount Marine have towed the brand new FPSO Petrojarl Knarr from South Korea to Norway in just 61 days. Petrojarl Knarr, one of world's largest floating production and storage units (FPSO) for harsh environments, was delivered in the port of Haugesund, Norway, September 16th 2014.
The entire voyage was under command of lead tug master Kees de Graaff on board of the leading tug Fairmount Sherpa.
The newly delivered FPSO Petrojarl Knarr is 256.4 meters long and 48 meters wide with a dwt of 135,000 tons. The vessel is owned by Teekay Corporation and is build by Samsung Heavy Industries in Geoje, South Korea. Petrojarl Knarr will be deployed later in the Knarr oil and gas field offshore Norway.