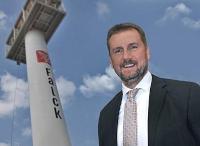 Falck Safety Services UK (Falck), which currently has 35 training centres across the world, was recently granted accreditation from ECITB for its Hub Rescue course, marking a first for this course across the safety training sector.
Designed for emergency rescue and escape training from wind turbines, the Hub Rescue training is a one-day course which will be delivered from Falck's Teesside centre using its state-of-the-art 23.7m wind tower.
Falck was also approved by ECITB for seven additional training courses including, Confined Space Appreciation; Entry Low Risk; Entry Medium Risk; Entry High Risk, Working at Height, Manual Handling and Abrasive Wheels, which are being delivered from Falck's two flagship training centres in Aberdeen and Teesside.
The new accredited courses are in addition to its existing offering of ECITB training including Contractor Safety Passport; Appointed Person – Moving Loads; Technical Trade Test and Moving Engineering Construction Loads Under Supervision.
The approval comes shortly after the training firm invested in a new Working at Height frame at its facility in Dyce, Aberdeen, enabling Falck to provide a variety of Working at Height courses, including: Working at Height Awareness (Unit 1), Working at Height & Harness Equipment User (Unit 2), Use of Rescue Equipment (Unit 3) and Management of Working at Height (Unit 4).
In addition to third party verification, the benefits of ECITB approved training courses are that levy-paying companies can claim back their training expenditure through the ECITB levy fund when booking their ECITB training through Falck.
Colin Leyden, managing director of Falck Safety Services UK, says, "It is important for Falck as a safety training provider to gain third party verification from leading industry training organisations as this helps reassure our customers that we are providing first class training that is highly regulated and delivered to an optimum standard."
"We are always looking to enhance and expand our technical safety training capabilities both in the UK and globally. We are known worldwide for our first class safety training, therefore it is important for us to maintain this reputation in the UK, as well as maintain consistency in our delivery throughout all of our training centres worldwide. Delivering ECITB-approved training courses, from our already sizeable portfolio of industry accredited training courses, only strengthens our positioning as a leading global safety training provider," adds Leyden.