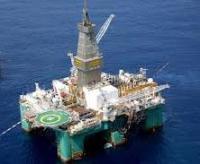 Falkland Oil and Gas Limited announces the following operational update with respect to its 2015 drilling programme.
Rig mobilises for 2015 drilling campaign
The Eirik Raude rig has commenced mobilisation from West Africa to the Falkland Islands for the 2015 drilling programme, which will be operated by Premier Oil and Noble Energy. The drilling programme will commence in March 2015 on the Premier operated, Zebedee well which will test the southern lobe of the Sea Lion field. The Isobel Deep well, also located in the North Falklands Basin will be the second well in the programme.
In order to reduce the cost of multiple rig moves around the Falkland Islands a slightly modified drilling order is now being considered: 1.Zebedee (FOGL 40.0%), North Falkland Basin, Licence PL004b 2.Isobel Deep (FOGL 40.0%), North Falkland Basin, Licence PL004a 3.Jayne East (FOGL 40.0%), North Falkland Basin, Licence PL004c 4.Non-FOGL well, North Falkland Basin, Licence PL032 5.Humpback (FOGL 52.5%), South Falkland Basin, southern licence area 6.Second Noble operated well, South or East Falkland Basin, to be decided