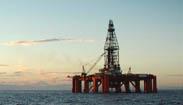 Falkland Oil and Gas Limited is providing an operational update on the 14/20-1 'Isobel Deep' well that was spudded, by Premier Oil as operator, on 8th April 2015.
The technical issues relating to the blow-out preventer control system have now been fully resolved and drilling operations on Isobel Deep have recommenced. Whilst these repairs were being undertaken the rig was utilised to drill top-hole sections and set conductors on the Chatham and Jayne East Locations.
On Jayne East, (FOGL 40% interest) the 36' conductor was set at a depth of 541metres and the well temporarily suspended. Drilling on Jayne East will recommence when the rig returns after the Humpback well in the South Falklands Basin.
The Isobel Deep well is expected to take approximately 15 days to complete.