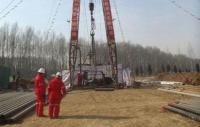 Far East Energy Corporation announces a continued rise in gas production from the Shouyang Block since the latest release issued December 31, 2013.
Following the December 31st announcement that the bridge facility with Standard Chartered Bank has been amended to extend the facility's maturity date to April 15, 2014, and that gas production at Shouyang had reached 1,569,270 cubic feet per day (1,569 Mcf/d), the Company is pleased to announce that as of January 6, 2014, production from the Shouyang Block has reached 1,676,518 cubic feet per day (1,677 Mcf/d).
This is up a further 7% from the production figure released on December 31, 2013 and up 127% from the 738 Mcf/d produced in the week ending November 12, 2013. Production growth continues to be seen from both new and older wells.