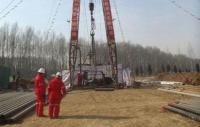 Far East Energy Corporation announced that as a result of negotiations concluded December 6, 2013 with its Chinese partner, China United Coalbed Methane Corp. (CUCBM), the parties have extended the exploration period of the portion of the Shouyang Block identified as "Area B" until June 30, 2016, and have agreed that Far East will drill at least 39 additional wells in Area B by June 30, 2016.
The Company also announced that there has been a large increase in gas production, with gas production now exceeding 1 million cubic feet per day.
The parties have agreed to revise certain related terms of the PSC to reflect this agreement and intend to do so within 90 days. Area B is significantly larger, at 1103.1 km2 (272,581.95 acres), than the Company's 1H core production area which contains 64.7 km2 (15,987 acres).