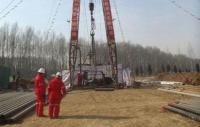 Far East Energy Corporation provides the following updates.
Production and Sales Update
Production volumes for the Shouyang PSC during the first quarter of 2015 were approximately 1.69 million cubic feet per day (MMcf/d), compared to production rates for the fourth quarter of 2014 of roughly 1.84 MMcf/d as last reported on April 2, 2015. As previously reported, management has undertaken broad cost control efforts to effectively manage operating and overhead costs; including, but not limited to, the shutting-in of certain wells, resulting in the somewhat reduced production volumes.
However, gas sales operations have continued, and are continuing uninterrupted, with consistent gas sales volumes reported quarter-to-quarter. Sales volumes for the first quarter of 2015 remained constant with an average of 1.53 MMcf/d compared to sales volumes of 1.54 MMcf/d for the fourth quarter of 2014, further underscoring the quality of the Shouyang Block.
Blackout Period Update
As reported earlier, FEEC management, along with its advisors, have been in an ongoing strategic process in which multiple interested parties expressed interest in strategic arrangements including, but not limited to, joint ventures, farm-ins, and an outright sale of the Company. Several of these interested parties engaged in lengthy due diligence processes and discussions with Company management.