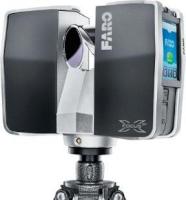 FARO Technologies, Inc. announced the release of the new FARO Laser Scanner Focus3D X 130.
Focus3D X 130, the newest member of FARO X Series of laser scanners delivers tremendous power, compact design, and the flexibility to perform laser scanning in both indoor and outdoor.
With a scanning range of 130 meters, the laser scanner is ideal for mid-range scanning applications such as architecture, BIM, civil engineering, facility management, industrial manufacturing, forensics, and accident reconstruction.