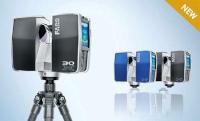 FARO Technologies, Inc. announces the release of CAM2® Measure 10 – Probing, the latest version in the CAM2 Measure 10 software suite, for the FaroArm® and FARO Laser Tracker product lines.
CAM2 Measure 10 – Probing is engineered for users whose 3D data requirements are focused on tactile measurements, without the need for point cloud data analysis. It is a powerful software package for CAD and non-CAD inspection and Geometric Dimensioning and Tolerancing. This new release advances FARO's commitment to deliver 3D metrology software that allows its customers to measure quickly, efficiently, and with unmatched simplicity.
"CAM2 Measure 10 – Probing is an ideal solution for users who do not need to utilize FARO's powerful point cloud capabilities. It is a tailored solution that gives our customers increased choices when it comes to functionality and cost," stated Kathleen J. Hall, Senior Vice President and Managing Director - Americas.