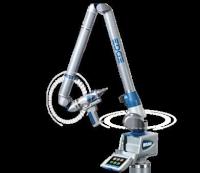 FARO Technologies, Inc. has released CAM2 Measure 10.5, its latest software for the FaroArm, FARO® ScanArm and FARO® Laser Tracker.
CAM2 Measure 10.5 leads the market with its capability to connect multiple 3D measurement devices, within the same coordinate system, and simultaneously scan into a single seat of software on one computer. This capability allows users to seamlessly scan large objects with higher speed and more precise accuracy in order to complete 3D scanning jobs faster.
"The new CAM2 Measure 10.5 provides significant advancements that support our customers' needs to measure faster and more efficiently with improved ease-of-use," stated Kathleen J. Hall, Senior Vice President and Managing Director - Americas.
Significant advancements to Geometric Dimensioning and Tolerancing (GD&T) functionality provide users with streamlined analysis and visual reporting. A part inspection can now be displayed just like a print to easily visualize and determine part quality. This enhanced functionality eliminates the need to look at each feature in sequence to make the same determination.