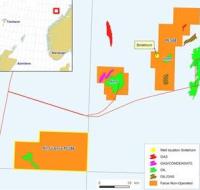 Faroe Petroleum announce the spudding of the VNG-operated Pil exploration well 6406/12-3S (Faroe 25%).
The Pil prospect (Licence PL 586) is located within tie-back distance (33 kilometres) to the Njord platform in which the Company holds a 7.5% interest. The prospect is a combined structural and stratigraphic closure and the primary target is at the shallower upper Jurassic Rogn formation sandstone which has proved to be an effective reservoir in the producing Draugen field, located 60 kilometres to the north east.
The Pil licence drilling operations are operated by VNG Norge AS (30%) using the Transocean Arctic drilling rig with partners Spike Exploration Holdings AS (30%) and Rocksource Exploration Norway AS (15%).