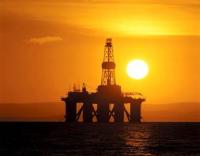 Faroe Petroleum announces the results of the Blink exploration well in the Norwegian Sea (Faroe 25%).
The objective of well 6406/12-5 S was to test the hydrocarbon potential of the Upper Jurassic reservoirs analogous to the Pil, Bue, Boomerang and Draugen field reservoirs. The well encountered a 557 metre gross section of Upper Jurassic sandstone following a technical sidetrack (6406/12-5 S T2). The well reached a total vertical depth of 3,710 metres below sea level and preliminary analysis from wireline logs, pressure and fluid sampling shows that the well encountered clean water-wet sandstones with good reservoir properties but with no indications of hydrocarbons.
The 6406/12-5 S (Blink) well was drilled on the Halten Terrace, approximately 27 kilometres south west of the Njord field and five kilometres north east of the Pil discovery well. Well 6406/12-5 S followed on directly from the Boomerang exploration well which encountered a 26 metre gross Upper Jurassic intra-Spekk/Rogn sandstone containing estimated recoverable resources of between 13 and 31 million barrels of oil equivalent.