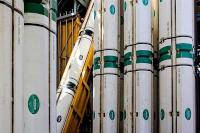 Trelleborg's offshore operation has been awarded a fast tracked order for Drill Riser Buoyancy Modules (DRBM) by one of the leading drilling companies in the world. Trelleborg was awarded the order, due to the flexibility of its customised automation manufacturing processes and tested proven buoyancy technology.
Alan McBride, Vice President of Trelleborg's offshore operation based in Houston says: "Trelleborg welcomes this opportunity to provide a fast track solution that will support our customers tight time scale with proven DRBM's. As a leading global manufacturer of syntactic foam solutions, our engineering and technology teams pride themselves on providing solutions that function as expected in the harshest conditions. With a focus on innovation and technology, we recently upgraded critical equipment including new testing systems and introduced customised automation manufacturing processes in our Houston facility."
"Trelleborg has a long-standing commitment to developing innovative products and sophisticated materials technology, designed specifically to exceed market requirements and meet the demands of increasing service depths in the offshore drilling segment. Similarly, our innovative solutions sustainably accelerate performance across our customer base" adds McBride
"Winning this order, as well as other recent major contracts for DRBMs, reinforces our position as a leading global manufacturer within the subsea buoyancy market that is driven to accelerate our customers' performances," he concludes.
In order to reduce a drilling riser's net weight in water, and ensure that the structure and drilling vessel are supported, Trelleborg offers a range of DRBMs, fitted around the length of the riser pipe, improving the riser's buoyancy and protecting it from service damage.