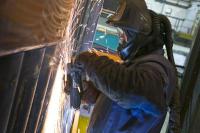 Ferguson Group says that their workspace modules are now also manufactured and certified to DNV 2.7-2.
With this, the Group is continuing its commitment to delivering quality products, manufactured to the highest international standards and requirements, for the offshore oil and gas industry. The latest modules are certified to DNV 2.7-2, a collection of requirements relating to temporary offshore equipment, addressing key safety aspects relating to the unit itself and its impact on the offshore installation upon which it is used.
Iain Muir, Managing Director Manufacturing explains the difference between DNV 2.7-1 and DNV 2.7-2 standards.
"DNV 2.7-2 is part of a suite of quality marques that provide a set of requirements for temporary offshore equipment modules. While DNV 2.7-1 provides a standard for structural requirements related to transportation and lifting phases, DNV 2.7-2 incorporates structural aspects relating to in-service operations. Its main focus however is on electrical requirements, based on internationally recognised IEC standards, and safety related aspects (driven by International Maritime Organisation Statutory requirements, e.g. SOLAS and MODU code) to maintain a safe working environment on offshore installations or vessels."