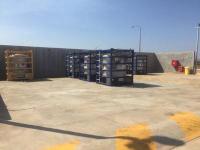 Ferguson Group Australia has introduced a range of chemical services from its new base in Gap Ridge, Karratha WA.
The purpose built base in Gap Ridge, Karratha was designed with integral chemical storage and handling facilities. Dedicated bunded storage for dangerous goods/chemicals (Class 3, 6.1, 8, 9 and C1 combustible products) is available, with a combined total storage capability of 500,000lts
Gap Ridge is within easy reach of ports, reducing the time taken to transport chemicals offshore. Market feedback highlighted that a large proportion of customers transported chemicals in offshore tanks from Perth WA on a three day trip to the port of Dampier. By offering bulk chemical handling and storage facilities at their new Gap Ridge base Ferguson Group Australia can now provide an improved service.