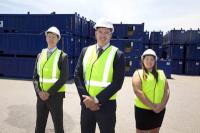 The Ferguson Group has strengthened its Australian team as a result of increasing product demand in the region.
Leigh Whicker and Joel Horsley recently joined Ferguson Group Australia. Along with Jennifer Millea, who joined mid-2013, they form the business development team based at Ferguson Group Australia's facilities in Perth WA. Leigh joins the company as senior business development manager, whilst Joel joins as business development manager. The team collectively bring over 22 years' oil and gas experience to the company.
The appointments will support the business development activities of Ferguson Group Australia and work closely with the regional partners Tek Ocean (Victoria NSW), SDV Logistics (East Timor) and Hooker Pacific (New Zealand).