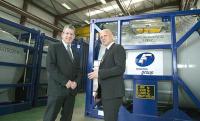 The global supplier of DNV 2.7-1/ EN 12079 offshore containers, tanks, baskets, refrigerated/freezer modules, workspace and accommodation modules has expanded its Gulf operations in recent years, opening a Dubai base and facilities in Abu Dhabi, whilst forming working relationships in the surrounding emirates and countries.
Richard Smith, CEO, Ferguson Group, welcomed Mr Bado to the Group.
"We are very excited by the prospects presented by the market in the Middle East. Emile's skills will support our continued expansion of Ferguson Group here in the Gulf and beyond".
"His experience leading multi-disciplinary, international teams coupled with his strong engineering background will make him a valuable addition to the senior management team in the Middle East."
Mr Bado will be based in Dubai. He has led engineering companies throughout the Middle East in the last ten years, most recently with a German engine manufacturer. A fluent Arabic speaker, he has worked both in the Gulf and USA.
Ferguson Middle East FZE offer a wide range of DNV 2.7-1 containers to the offshore energy industry, including cargo carrying units, waste skips, chemical and cryogenic tanks, accommodation and workspace modules and reefers. They have recently launched a Zone 2 compliant reefer and a dual HVAC workspace module that has been designed to operate in the extreme temperatures of the Gulf.