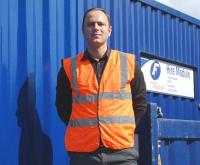 Ferguson Group Singapore has appointed OPS Oilfield Equipment and Services Ltd (OPS-OES) as the group's new exclusive partner for Thailand.
Bangkok Headquartered OPS Oilfield Equipment and Services Ltd, has been servicing the offshore and onshore energy sector in Thailand for many years. It covers offshore operations from bases in Songkhla and Sattahip.
The new bases in Thailand will allow our partner, OPS-OES, to service the region with a full range of CCUs (cargo carrying units) including dry goods, open tops, half heights, skips and cargo baskets – all manufactured and certified to DNV 2.7-1 / EN 12079. OPS-OES joins other Ferguson Group Singapore partners based in Vietnam, Indonesia, Malaysia and Brunei supplying units from bases that are close to the offshore projects across the region.