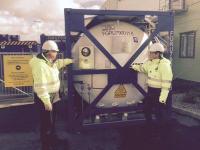 Ferguson Group has increased its Norwegian product range to include a large fleet of chemical tanks, including cryogenic tanks for liquid nitrogen storage and transportation.
Chemicals are essential for use in the energy industry. They are routinely used in the offshore sector from E&P to decommissioning. It is a specialist area, as the type and grade of chemical is often dependant on the geology of the formation.
Morten Smith General Manager, Ferguson Norge said,"We continually review our fleet to ensure that we can provide products to meet our customers' needs. This has led to an investment in a number of new chemical and cryogenic tanks."
Chemicals used offshore must be stored and transported under strict controls, set down in the IMDG code, an international set of regulations. This regulates how they are transported, in order to keep both the environment and people from harm.
The new tanks have been designed and manufactured specifically for the safe transportation and storage of a wide range of oilfield chemicals.
Smith: "Our tanks are constructed using different materials to meet with the storage and transportation requirements of a wide variety of oilfield chemicals. Some chemicals can have a corrosive effect if incompatible with the tank material, causing pitting and damage to the tank shell. It is therefore important to ensure product compatibility at all times. Using the wrong tank could potentially pose a risk to both people and the environment."