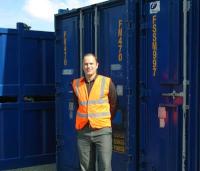 Ferguson Group Singapore has announced the expansion of their chemical tank fleet at OGA 2015.
The tanks will be available throughout Malaysia and the surrounding region, for the safe offshore transportation of chemicals that operators and services companies commonly use as part of their offshore activity.
Ferguson Group Singapore currently has a fleet of 4000ltr chemical tanks and has just taken delivery of 10ft 8000 litre tanks and larger 20ft 20000 litre tanks will soon be available from the base in Singapore, to be used with a variety of industrial chemicals.
Simon de Koning, General Manager, Ferguson Group Singapore, welcomed the new arrivals to the fleet:
"Our customers have asked us if we could supply larger chemical tanks to help them with everything from well stimulation and cementing, to decommissioning. We are expanding our fleet to have three different sizes as these will better support our customers."
The chemical tanks can also be used for well returns, including solutions such as hydraulic oils, turbine oils, potable and produced water. They are constructed from 316L stainless steel and have a remote vent valve, level gauge and dipstick. They have been approved from transport under IMDG/ADR/RID.