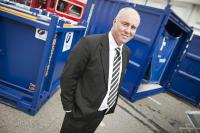 Ferguson Norge AS, part of the Ferguson Group, has increased its fleet in Norway ahead of this year's Offshore Technology Days (OTD) exhibition.
Ferguson Norge has invested in a number of new offshore containers and workspace units, which will be available from its bases in Stavanger, Bergen and Kristiansund. The units are accredited to DNV 2.7-1 and also NORSOK R-002, to ensure that specific standards in the Norwegian market are met.
The Group's Norwegian operation has also added several new Lifting Frames to its fleet. The frames, which are the ideal method for transporting special cargo to and from offshore locations, have been manufactured to full DNV 2.7-3 standards, enabling the lifting frames to lift over 25 tonnes.
Morten Smith, General Manager – Ferguson Norge AS said, "Investing into the expansion and development of our product range is hugely important across the Ferguson Group in order to meet our clients needs, and we pride ourselves in our ability to offer the highest quality, fully accredited modules and units.