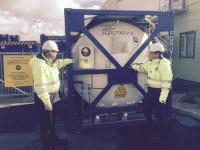 Ferguson Norge will be exhibiting its extreme weather products at OTD 15 in Stavanger.
The Norwegian Continental Shelf and the Arctic can become excessively cold in winter it is vital to have equipment capable of working at very low temperatures. The remoteness of the region means the equipment to be resilient, robust and efficient.
Ferguson Norge's range of sealed waste units, tanks and containers are constructed in a grade of steel capable of working in intense cold for long periods of time.
Morten Smith, General Manager, Ferguson Norge,"We understand the issues caused by extreme cold and we do all that we can to ensure our products are adapted for the winter temperature. Our waste skips are rated to -20°C and the 10 foot chemical tanks have a steam heating system to ensure that the contents are usable, whatever the outside temperature."